Wellness is a choice – pure and simple. You create the balance or imbalance in your diet and life. Every meal counts and that includes the ones you skip. As a dietitian, clients tell me every day that they are too busy to eat well and the meal they skip is usually breakfast. I know your to-do list is longer then Santa's naughty-or-nice list and you try to get everything checked off, but a healthy breakfast can no longer be sacrificed.
Food is vitally important, especially healthy food and healthy eating habits. You have to be realistic and understand that your body is a machine that is slowly wearing down, regardless of what you do, so let's do everything we can to keep ourselves strong over the long-term. I implore you to please recognise that you are worth a 15-minute breakfast. Food is nutritious and you deserve it.
Below are three healthy breakfast menus you can use to help you become the empowered, nourished and balanced person you were really meant to be. Each menu contains a variety of protein, complex carbohydrates, fibre, and valuable nutrients and minerals. These easy-to-make breakfast options are as satisfying and tasty as they are healthy. Invest 15 minutes of your day in eating breakfast, and see how much more you'll get accomplished!
How to Make Cupcake Frittatas
Ingredients:
1 tablespoon olive oil
8 large eggs
125ml skimmed milk
½ teaspoon freshly ground black pepper
¼ teaspoon salt
140 grams diced courgette
2 garlic cloves, minced
2 teaspoons chives
140 grams chopped, seeded tomato
Directions:
1. Preheat the oven to 190 C (375 F).
2. Lightly coat the wells of a 12-cup cupcake tin (with 12 cups) with olive oil; set aside.
3. Whisk the eggs, milk, pepper, and salt in a large bowl to blend well.
4. Stir in the courgette, chives, garlic, and tomato.
5. Fill prepared cupcake wells ¾ full with the egg mixture.
6. Bake until the egg mixture puffs and is just set in the centre, about 10 to 12 minutes.
7. Using a rubber spatula, loosen the frittatas from the cupcake wells and slide the frittatas onto a platter. Serve immediately.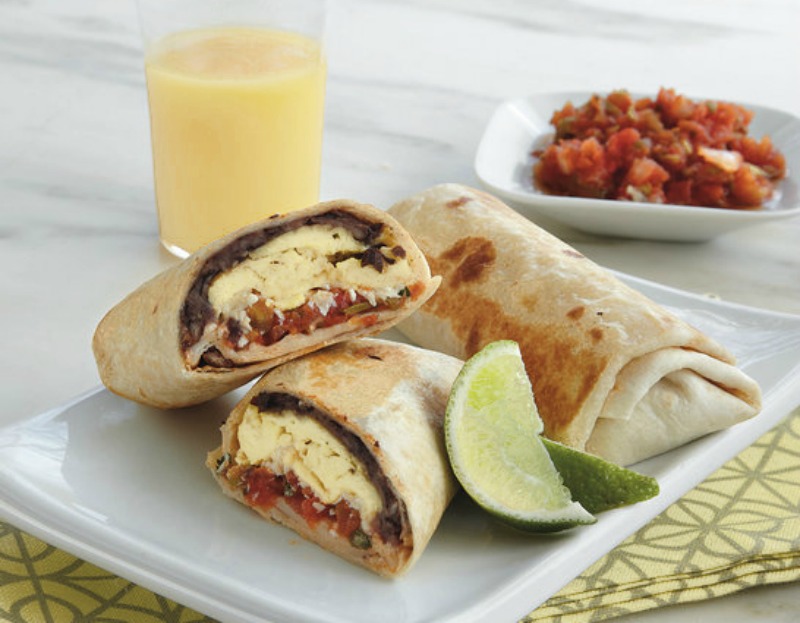 How to Make Healthy Breakfast Burritos
Ingredients:
1 tablespoon olive oil
2 egg whites
2 whole wheat tortillas
70 grams fat-free cheddar cheese
70 grams rinsed, canned black beans
Salsa or diced tomatoes to taste
2 thin slices of avocado
Directions:
1. Heat frying pan on medium-high; coat with olive oil.
2. Add beans to pan; heat for 30 seconds.
3. Add egg whites to pan, combine with beans and cook to the desired degree of doneness; set egg and bean mixture aside.
4. Place tortilla in used skillet; heat for 30 seconds; place on plate.
5. Place the cooked eggs and beans on the tortillas.
6. Add avocado slices; sprinkle with cheese.
7. Roll each tortilla into a wrap.
8. Spoon salsa on top.
How to Make Whole-Grain Waffles with Sliced Kiwi and Yoghurt
Ingredients:
200 grams whole-wheat flour
1 tablespoon toasted wheat germ
1 tablespoon cane sugar
¾ teaspoon baking powder
¼ teaspoon coarse salt
180ml skim milk
2 tablespoons canola oil
1 egg white
½ teaspoon pure vanilla extract
200 grams kiwi skinned and diced
100 grams  low-fat plain yoghurt
Honey, for drizzling
Directions:
1. Preheat non-stick waffle iron.
2. In a large bowl, whisk together flour, wheat germ, sugar, baking powder, and salt.
3. In another bowl, whisk together milk, oil, egg, and vanilla.
4. Stir egg mixture into flour mixture and mix until just combined.
5. Cook until golden brown, about 7 to 8 minutes (or according to manufacturer's instructions).
6. Serve with kiwi, a splotch of yoghurt, and a drizzle of honey.
The truth is that the healthier you are, the better worker you are. It's hard to run a meeting or a household if your body is having to fight unhealthy food all the time. Take a few minutes a day and feed yourself. Not only should you experience food, because it's one of the best things about being alive, but it will make you better at what you do regardless of your field. Breakfast – it's essential. Try it!
Do you have any favourite healthy breakfast ideas? Let us know in the comments below.